We are excited to announce that the Land-Grant Taproom & Beer Garden in Franklinton will be the official host location for all of the American Outlaws match-watch action during the FIFA World Cup Qatar 2022.
Land-Grant will be OPEN FOR ALL USMNT MATCHES, with Columbus' official American Outlaws' watch parties on the following dates:
Group Stage Matches
A total of 22 Group Stage matches are slated to be shown at Land-Grant, including the three official American Outlaws Columbus USMNT watch parties. Soccer fans can join us Monday, 11/21 through Wednesday, 11/23 for all Week 1 11:00AM & 2:00PM matches, and – after Thanksgiving – can head back down for all 11:00AM & 2:00PM Week 2 matches from Friday, 11/25 until Monday, 11/28. Land-Grant will also be open for all 2:00PM matches during Week 3 of the Group Stage.
We will show all matches in the Taproom and, weather permitting, have them on outside on the Beer Garden big screen.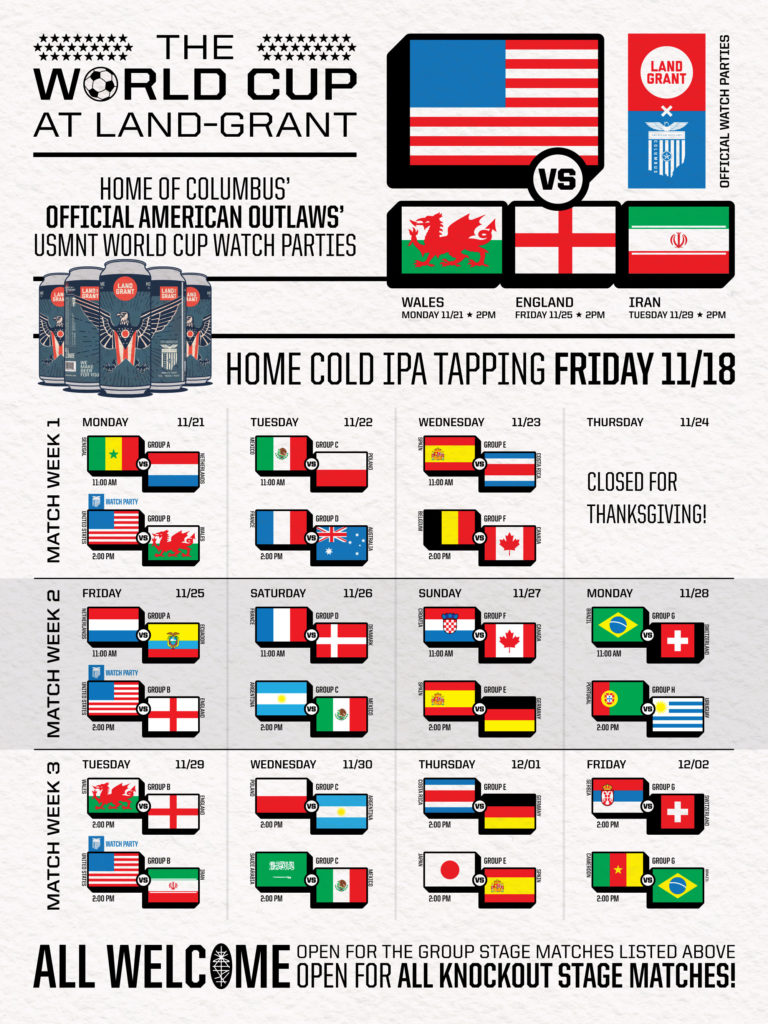 Can't take the day off to take in all the global action? No problem! Our Taproom & Beer Garden are equipped with WiFi just in case you want to "work from home" during any of the matches.
Knockout Stage Matches
When the 2002 World Cup advances to the Knockout Stage matches, Land-Grant has you covered. We will be open for ALL Knockout Stage matches, so mark your calendar and make LG your go-to for all the action.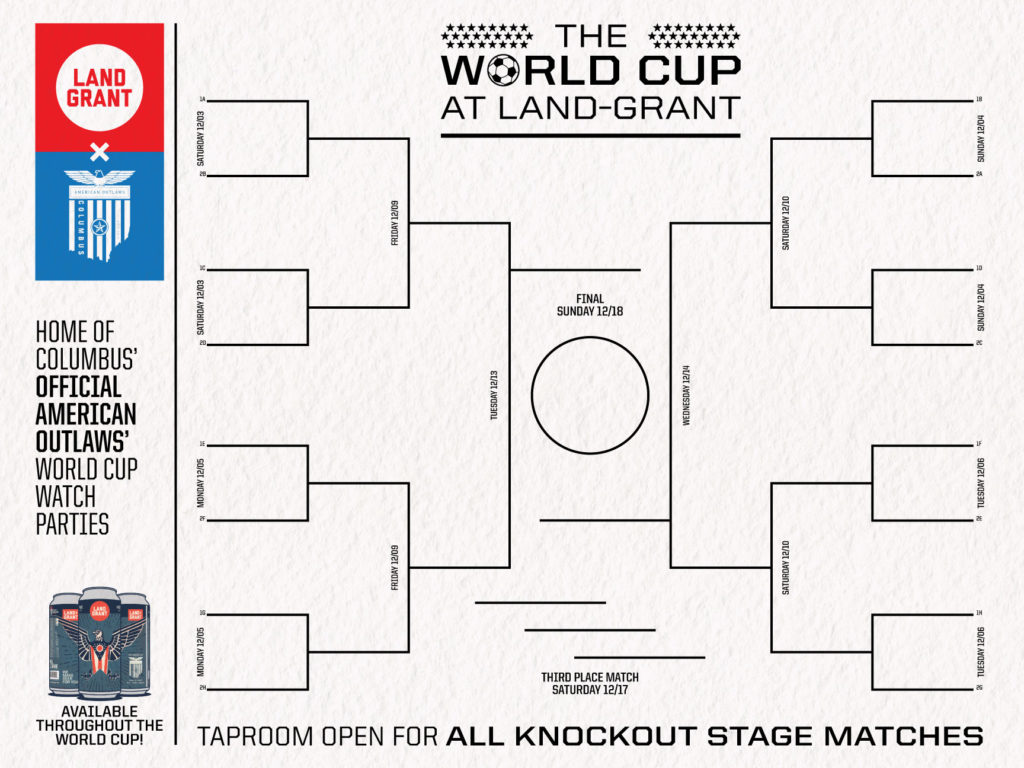 But First…Tap into the Spirit with HOME Cold IPA!
We're eager to get the party started, so we're kicking things off with a World Cup pre-party on Friday, November 18! Fans are invited to join us starting at 3PM for the tapping of HOME Cold IPA, brewed in partnership with AO Columbus, which will be available on draft and in 16 oz. 4-packs for carryout. Get a behind-the-scenes sneak peek of a recording of our Beers with the Brewers Podcast, featuring guests from AO Columbus as they breakdown Home Cold IPA and all things 2022 World Cup.
We'll have exclusive HOME merch for sale, and a special "keep the pint" promotion with special USA-inspired glassware. We'll be showing old USMNT matches all evening long, so stop in for a pint to get in the spirit!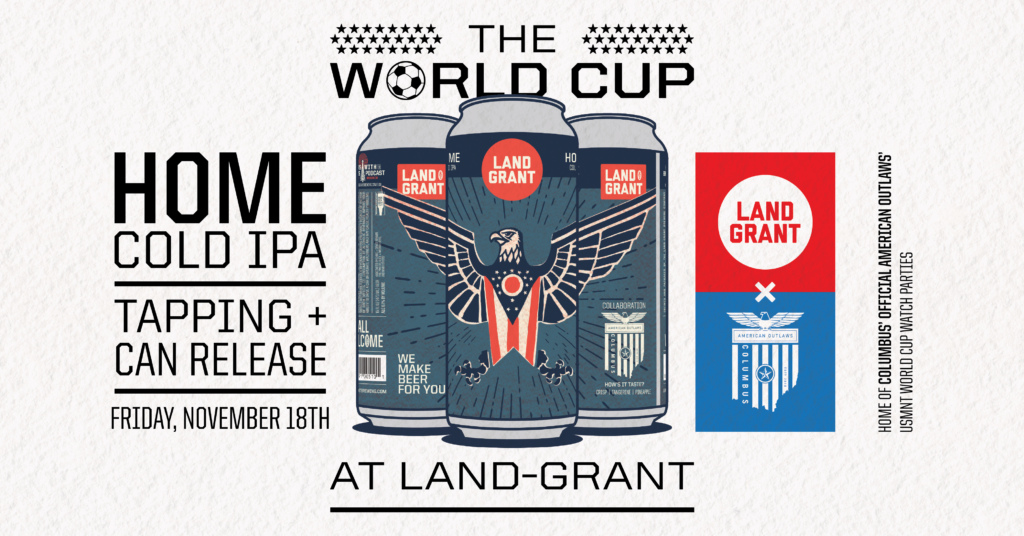 ---
About the American Outlaws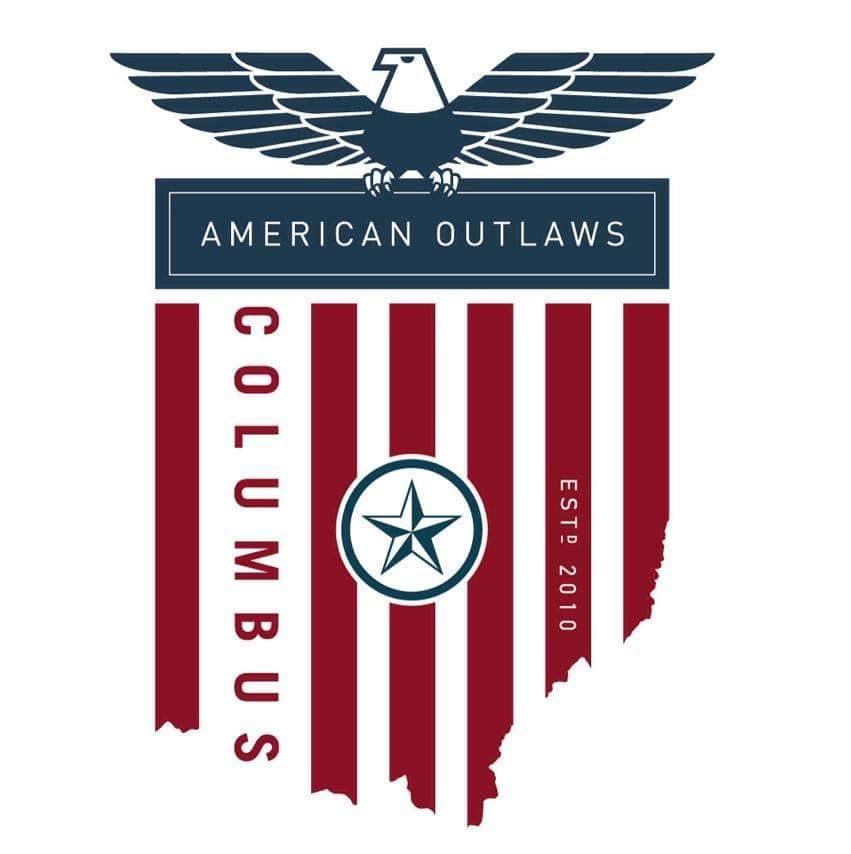 The American Outlaws – a non-profit, US Soccer Supporter group with more than 200 chapters worldwide – named Land-Grant as their Columbus chapter bar in 2021, and has since been hosting collaborative watch parties, fundraisers and community events in support of both men's and women's U.S. Soccer. To learn more about the Columbus chapter, check them out on Facebook, Instagram and Twitter, or shop their online store here.