Local Brands Team Up for Block Party-Style Hoops Tournament
Hoops? Check.
'Fit? Check.
Heat? Check.
On Saturday, August 20, 2022 – sixteen local brands will take to the streets for a friendly day of competition, culture, and community in The Heatcheck, a 3-on-3 basketball tournament presented by Rio and Ransom.
Hosted right here at Land-Grant, The Heatcheck will feature four basketball courts on the Town Street blacktop as part of a celebratory collaboration between the worlds of beer, fashion, music and sports.
In its inaugural year, the 3-on-3 tournament will feature sponsored teams from some of the city's fashion imprints like Sole Classics, Ransom Supply, Columbus Fashion Alliance and more. Additionally, a Land-Grant team will compete alongside several other Columbus all-star brands, including Homage, Mikey's Late Night Slice, the Columbus Crew —all of whom are teaming up to help raise funds for Franklinton's Gladden Community House. (Click here to see a full list of participating teams!)
"We're excited to bring these communities together through this tournament," said Ryan Ransom, founder of Ransom Supply. "Playing basketball was my first love and helped me stay out of trouble as a kid, so this event is a special way we can come together and give back to support the youth at Gladden Community House."
Gladden House, a part of the Franklinton neighborhood since 1905, helps stabilize families and empower the Franklinton community through a variety of programs—ranging from homelessness prevention to food security to early education. Also featuring a team sports program, they're an ideal non-profit partner for the tournament.
"A street hoops tournament event is such a classic Ohio tradition. It's old school—just like Gladden House," Gladden Development Director Travis Hoewischer said. "We've been serving the community for more than 100 years, and ever since Land-Grant set up shop in Franklinton, they've been a tremendous community partner. Being on the same team with them and all these brands greatly assists the neighborhood and the families we serve."
The Heatcheck will also showcase many of the participating brands at a vendor market set up throughout our beer garden, where attendees can take home unique merch and one-of-a-kind items from many of the participating teams. Additionally, the soundtrack to the day will be provided by some of the city's finest DJs on the beer garden stage. As always, we'll have a full array of beers on-hand for the day, including limited edition Lemon Glow Hazy Pale Ale Heatcheck Edition in 16oz cans, and plenty of space to watch the action from the sidelines.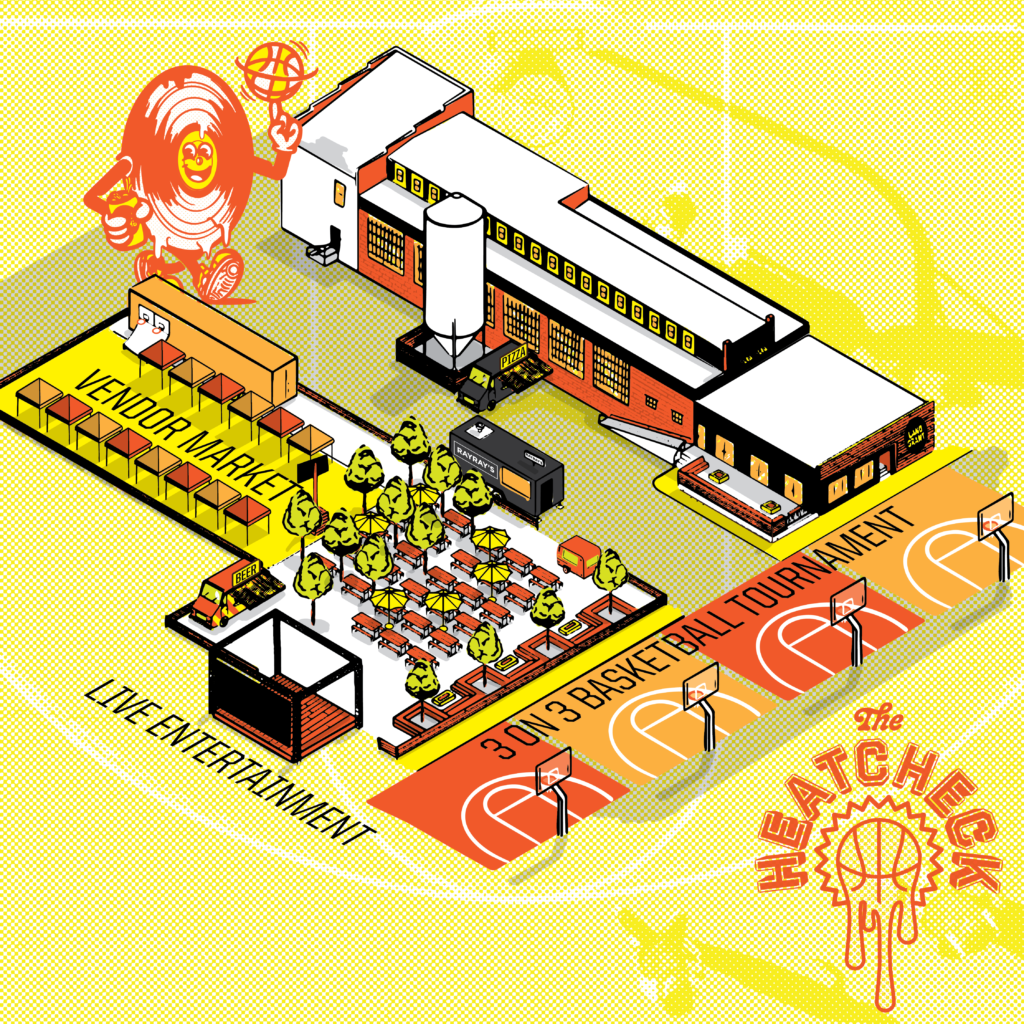 Doors will open at 11 a.m. and the event will tip-off at noon, with 3-on-3 play happening alongside the vendor market and music all day long. The event will also feature other competitions throughout the day where spectators can enter to win prizes and support the fundraiser for Gladden House, and a tournament winner will be crowned after the 6 p.m. championship game. For more information, including a full list of team, vendors and entertainment, please visit: landgrantbrewing.com/heatcheck/.