Our February featured community partner in our recently revamped Let's Give program embodies so many of the characteristics we admire in local businesses and organizations that we couldn't wait to partner up. With deep roots in Old Towne East, another shop in Gahanna since 2016 and a roasting and packaging facility in South Linden – Upper Cup Coffee Company's presence – and coffee – reaches all across Columbus. 
Inspired by their Eritrean roots, Mike & his brother Samson Habte began Upper Cup Coffee Company in 2010 as they roasted beans out of a warehouse on the East Side. A year later, Upper Cup opened the doors of its first retail location in Olde Towne East and has served as an incubator, fostering a sense of community throughout their neighborhood, ever since.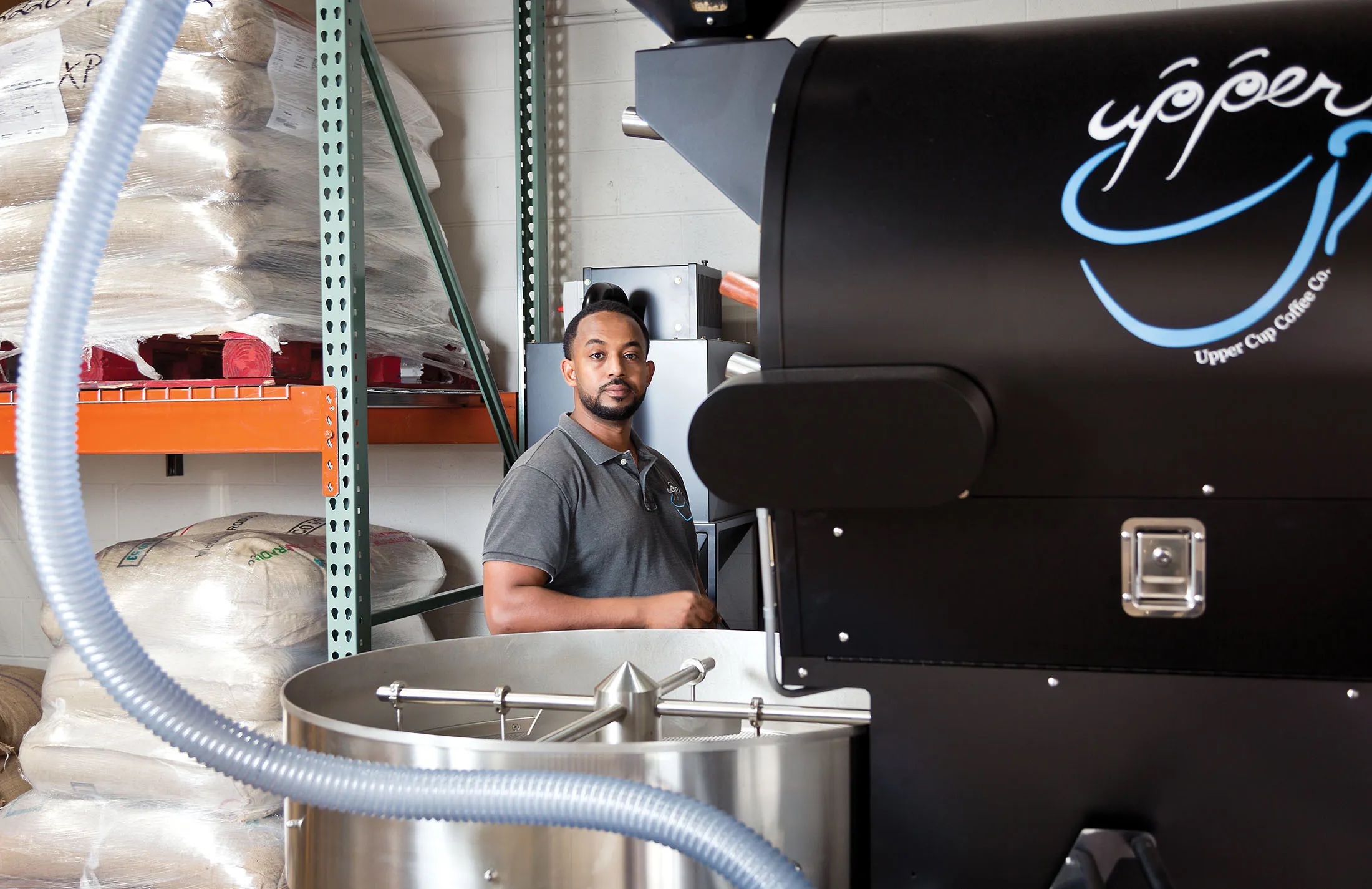 Whether you pick up your morning latte, partake in their Chess Sundays or explore the artists exhibited in their shops' art gallery walls –  Upper Cup has grown to be so much more than a coffee shop. It's a place where a variety of people, cultures, styles and ideas all come together over a great cup of locally roasted coffee. 
During the month of February, Upper Cup will welcome back artist "Coach" Keith Neal, who will be exhibiting his work for the twelfth year in a row across Upper Cup's art galleries in OTE & Gahanna.
Additionally, you can get a taste of Upper Cup right here in our Taproom with our Upper Cup beer collaboration – Buna, a Black IPA with Coffee (8.0%) – that features both their Bali and Ethiopia beans; fittingly, Buna is the East African word for "coffee". In this collaboration beer, the berry aromatics from the Bali coffee pair well with the berry and tropical hop character in the beer to enhance the smooth and fruity notes, while the Ethiopia imparts more of the true coffee notes in Buna, with some light roast and cocoa to compliment all the berry. Buna will be available in 10 oz. draft pours exclusively in the Land-Grant Taproom starting today. 
We invite you all to lend your support to Upper Cup by visiting one of their two shop locations, purchasing their locally roasted coffee and by rounding up when you close your LG tab anytime you throughout the month of February. You can also purchase specialty bags of an exclusive "Buna IPA Blend"– a custom mix of Upper Cup's locally roasted Bali & Ethiopian beans that matches our brewers used in the beer – exclusively in our Taproom, while supply lasts. 
With the ethos of Coffee Is Our Culture, we deeply admire how Upper Cup Coffee not only produces thoughtful, top-quality, locally roasted coffee, but also creates an inclusive and welcoming shop experience that brings together the diverse cultures and ethnicities that represent the rich fabric of Columbus. Learn more about Upper Cup on their website & follow them on Instagram at @uppercup.