Franklinton Friday Music Series
We're proud to partner with the Franklinton Arts District as the host of the 2021 Franklinton Friday Music Series, where our Beer Garden stage is home live local music on the second Friday of each month through September. These shows are free to the public In conjunction with Franklinton Fridays, and serve as an opportunity to showcase Columbus's immensely talented musical and visual artists. In addition to the opening and headlining musical acts, each concert will also feature special performances of songs created by young students from local non-profit We Amplify Voices (WAV).
Benefit Beers // The Label Art
In tandem with being the home of the live local music during Franklinton Fridays, we are also releasing a new Franklinton Fridays Benefit Beer featuring the artwork of a local artist each month. The Franklinton Fridays Benefit Beers feature a design from a local visual artist that's inspired by the evening's musical act and featured on both the event's concert poster and the beer label of one of our Experimental Series brews. Exclusively available at Land-Grant, the benefits from these beer sales (both single cans and six-packs to go) will be donated back into our community to support the art and artists of the Franklinton Arts District.
This month's Benefit Beer label was painted by visual artist Francesca Miller, inspired by the July Franklinton Fridays Music Series act, Eric Rollin, and his work with the band Mistar Anderson. Francesca designed the label art by painting two separate pieces, one of a star and the other with a hand holding a microphone, which she combined digitally to create the final label art.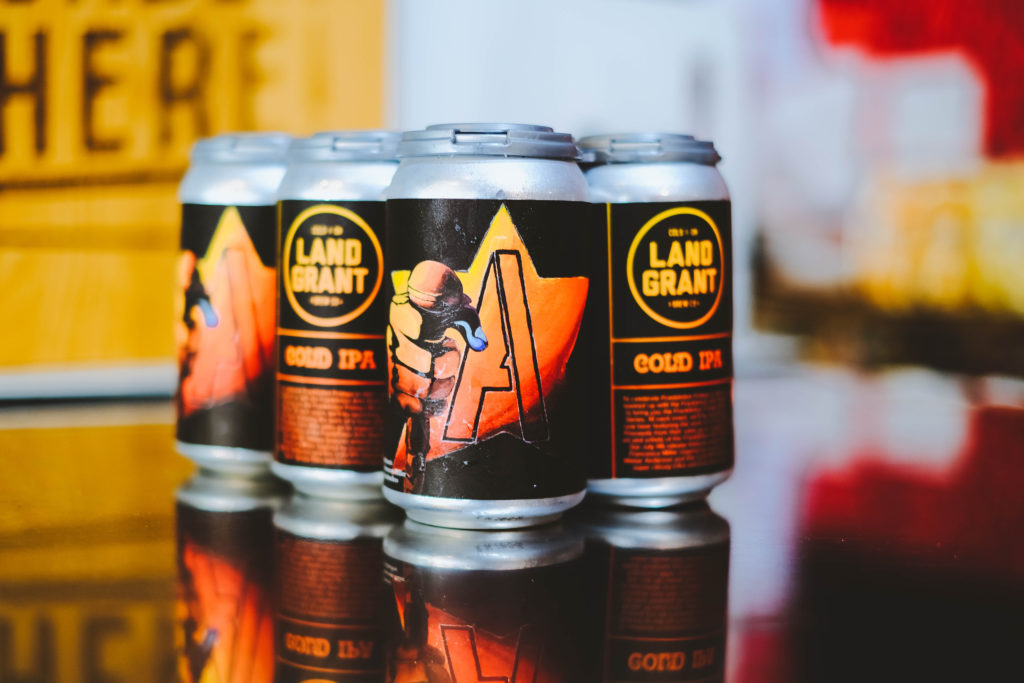 The ABCs // Artist Behind the Can
A 2019 graduate from The Ohio State University, Francesca Miller works primarily in painting, and is known well for her expressiveness through the array of colors in her work. Her painting truly knows no bounds – whether it's on paper, canvas, glass, wood, or walls – Francesca's aim is always to evoke emotion in her audience and has particularly found a love of painting murals.
Francesca made the leap to being a full-time visual artist after leaving her job with All R Friends in June 2020 as a result of last summer's #BLM protests.
"Once the protests started happening, there was a high demand on murals – and I felt like I was just supposed to go for it," Francesca noted. "Ever since then, I've been a full-time artist working freelance. It was wild, but I knew this was my calling. I'm supposed to be doing art full-time."
While her freelance business is her primary focus, Francesca also works with All People Arts gallery, located at 1865 Parsons Avenue in Columbus. She oversees APA's Walt Neil Mural League program, which acts as a liaison between the city's muralists and local businesses and organizations that want to foster space for creativity. This program not only makes it easier to connect local artists to companies looking to beautify their spaces through art, but also functions as a connection point for the artists themselves.
"It's a necessity for artists to build a community amongst each other, so that's something we're really big on, as well," Francesca said of her work in the Walt Neil Mural League. "Not only do I get to watch the commercial world and creative world collide through the work of the program, but I also get to set up events and meet-ups that foster a sense of community between us [the artists]."
With the release of her beer label on Land-Grant's Cold IPA this Friday, it's certainly been a big week for Francesca professionally. This past Wednesday, three of her designs were released on graphic tees for Abercrombie & Fitch as part of their Equity Project. While the project had been (secretly) in the works since December, all three shirts dropped Wednesday and are available throughout stores nationwide and for purchase online here!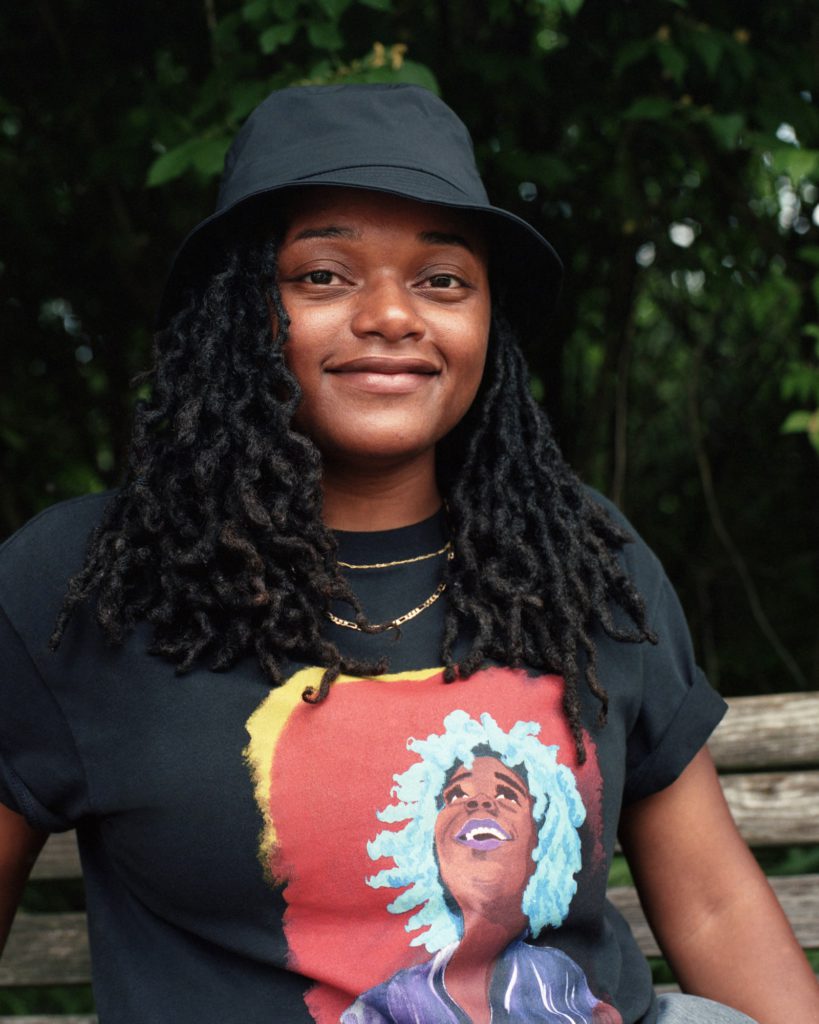 In addition to the many murals she's already completed throughout the city, Francesca has an upcoming mural for the Black Student Union at Denison University and an installation on the Capital University lawn in partnership with Bexley's Community Arts Council – BexArts. She is also getting ready for a month-long show at Upper Cup Coffee's Parsons location in August that will travel to the Gahanna Upper Cup Coffee location the following month.
"I get to color Columbus!" Francesca said excitedly of all of her projects. "Everything I've wanted to do has been coming to fruition, so I guess it's time to make a new list of goals."
If you're interested in working with Francesca on any upcoming projects, you can reach out to her via email at theartisanfran@gmail.com, find her on Instagram at @_callmefree or look for her in the Beer Garden Friday night.
Eric Rollin and Friends // The Music
This Friday, July 9, we welcome the music of Columbus-based vocalist Eric Rollin, who has opened for artists like Nappy Roots, Boyz II Men, Kendrick Lamar, Schoolboy Q, G Love & Special Sauce, Brother Ali, Juicy J, Funky Knuckles, Mickey Hart and more. A professional singer/songwriter, educator, mentor and audio engineer, Rollin wears many hats here in the Columbus community. In addition to being a co-founder and singer/songwriter for the band Mistar Anderson, he also created the local music initiative "The Break", which is the longest running freestyle hip-hop open-mic night in Columbus. Furthermore, Rollin founded the Columbus Chicken and Beer Festival, and acts as a member and advocate of various non-profit organizations dedicated to community music development.
Rollin's opening act, Ty Kalil, will kick off the music series this Friday around 6:30pm in the Beer Garden. (Take a listen to these talented performers through their Spotify artist channels linked above and get ready for an evening filled with wonderful local artists and the freshest local beer!)